We are much delighted to introduce our new residential apartment project "TRINITY HOLY HOME[THH]". The project is six storied apartment, located in Mirpur, Majar Road, the location is very calm, quite & secured place & free from traffic congestion. This can be great habitable location for peace-loving people. The complex is ideally located & a short distance away from the ideal School, Shopping Complex etc.
While designing, architects put the best offer on maximization of functional aspects as well as the aesthetics of the project. Creating responsive openness & comfort. The apartments in this complex are expression of contemporary architecture, equipped with modern, stylish & elegant fitting & fixtures.
Construction work of THH has already commenced & the tentative date of completion is December 2010.
The site of THH is south facing, located in 5, Batenia Housing, Baten Nagar, Majar Road, Mirpur, Dhaka.
Two is proposed to have single apartment on each floor. Ground floor is reserved for car parking, reception, guard room, toilet, utility space etc & this projects will be ready to back up the lift, water pump & common space.
Project Name
Trinity Holy Home
Ground Floor:
Car Parking, Reception, Guard Room
Driver's Waiting, Toilet, Toilet, Generator Room.
Location
5, Batenia Housing, Baten Nagar, Majar Road
Mirpur, Dhaka.
Typical Floor
Welcome Lounge, 3 Beds, 4 Toilets, Kitchen
Living Area, Dining Area, Family Living
4 Verandas.
Roof Top:
Community Space, Landscape
DRAWING & DESIGNING
The drawing & designing of the building has been prepared by experienced & respected professional architects, engineers & designers. Structural design has also been prepared on the basis American Concrete Institute [ACI] code. Protection from cyclone, of up to 200 kmph & earth quake of 6.5 on richter scale are incorporated in the design.
Floor Plan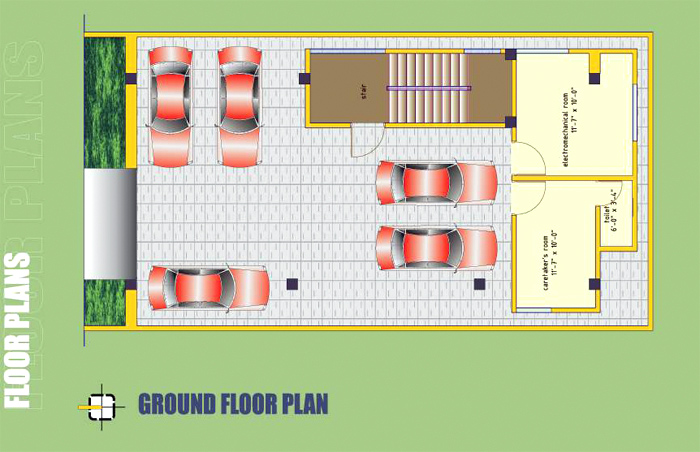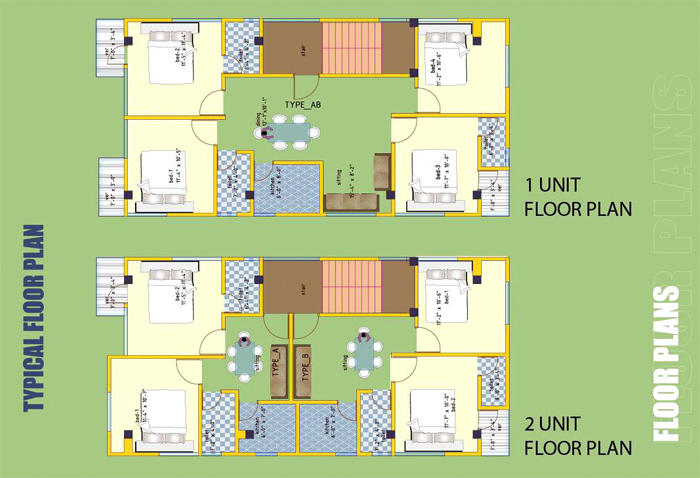 FEATURE & AMENITIES
General Amenities
 Heavy secured gate lamps & security room with intercom connection with all flats. Spacious entrance & driveway with security arrangement for control over incoming & outgoing persons vehicles, goods etc.
 Underground water reservoir with one main lifting pump & standby pump with 3 days water reserve.
 Standby generator for water pump, staircase lighting & illumination of two lights & one fan on each flat.
 Separate electric, gas, telephone & dish connection for each flat.

Lift
 One super quality lift from reputed manufacture of foreign to serve every floor. Lift have adequate lighting well finished door & cabin, emergency alarm & intercom line.

Wall/wall finishing & polishing
 All exterior & interior walls with 5" brick[1st class] with ½"plastering.
 Plastic paint Burger or equivalent in inside walls & snowcem in outside of the building.
 French polished will door frame.

Flooring
 All rooms will be best quality local made matching Non-slips 16"×16" size floor tiles.
 All corridor, lobby, staircase will be Non-slips tiles.

Door & Window
 Main door with solid teak wood, others are Gamini/Partex flash door paited/polished.
 All window are 4" Bronze Aluminum sliding with 5mm tinted glass & secured M.S Grill with Square bar.
 Door frames are with Mehgony Or equivalent wood.
 Bathroom doors shell be local made plastic door.

Bathroom
 Best quality sanitary wares from BISF/RAK. Curler brand.
 Full height glazed ceramic tiling on wall with RAK/Fu-Wang or equivalent brand.
 Glazed ceramic tiling floor with RAK/Fu-Wang or equivalent brand.
 Concealed hot & cold water line provition on bathrooms.
 Best quality local made fitting i.e towel rail, toilet paper holder, soap case etc.
 Best quality water tap from SHARIF/SUN BIRD or equivalent brand.

Kitchen
 R.C.C platform with double burner gas outlet &one stainless steel sink.
 Best quality local made matching Ceramic tiling on floor & walls up to 7ft height & burner area.
 Exhaust fan will be provided in suitable location.

Optional amenities
 Built in wardrobes & dinning area at flat owners choice & design.
 All floor can be foreign tiles with additional cost.

Electrical
 Concealed electrical wiring with branded wires [BRB/Sunshine or equivalent quality] & PVC pipes with earthling connection & provision of A/C connection master bad & living room.
 Provision of Geyser connection in one toilet & kitchen.
 M.K/M.E.M or any best quality electrical switches sockets & distribution boards with circuit breakers.
 Provision for Concealed intercom, telephone, TV & dish connection in master bad & living room.
 Lighting shades to be provided by owner's at their own cost.
 Separate electric meter in the ground floor of the building.

STRUCTURAL FEATURES
 60 grade will be used Diamond steel or equivalent.
 Holcim/Scan cement or equivalent brand will be used in all structural work.
 Total foundation & superstructure is designed by a team of reputed & professional structural engineers.
 Structural design parameters are based on American Concrete Institute [ACI] & American Society of Testing & materials[ASTM] code.
 Structural analysis for design carried out by "EXACT" method that utilizes the latest computer software.
 Sub soil investigation & soil compositions are comprehensively analyzed by latest testing equipment & laboratory techniques.
 Comprehensive section by section checking & testing of all steel reinforcement by professional design & supervision engineers.
 Direct supervision at every stage of construction by a team of experienced & qualified civil engineers to ensure highest quality of workmanship.
 Protection of Cyclone up to 200 kmph. Including earthquake factors [Richter scale 6.5] are incorporated in the structure.

TERMS & CONDITIONS
Application for allotment of apartment should be made on the prescribed application form duly signed by the applicant along with the Earnest money. The Company has the right to accept to reject any application without assigning any reason thereto.
On acceptance of an application, the Company will issue an allotment letter to the applicant on the receipt of which the applicant/allotee shell start making payment as per schedule of payment in this brochure. Allotment of apartment are made on first come first reserve basis.
Payment of earnest money, installment, car parking cost, additional works & other changes shall be made by Bank Drafts or Pay Order against which respective receipts will be issued. Bangladesh , residing abroad may remit payment in foreign exchanges by TT or DD.
Payment of installments & all other charges are to be made on due date. The Company may issue reminders to the allottee but not withstanding the issue of reminder, the allottee must adhere to the schedule of payment to ensure timely completion of construction.
Delay in payment beyond the due date will make the allottee liable to pay a delay charge of 3% per 30days on the amount of payment delayed. If the payment is delayed beyond 60 days, the Company shall have the right to cancel the allotment without notice to the allottee. In such an event amount paid by the allottee will be refunded after deduction after deducting the Earnest money.
Connection fees/charges, security deposits & other incidental expenses relating to gas, sewerage & electricity connections have not been included in the price of apartment. These payment will be made by Company directly to the authority concerned in favor of allottee's account. The allottee will be billed proportionately on actual cost basis.
Limited charges in the specification, design and/or layout of the apartment & other facilities may be made by the Company in larger overall interest or due to unavoidable reason.
The possession of each apartment shall be duly handed over to the allottee on completion & on full payment of installments & other charges. Till the possession will rest with the Company.
The allottee will pay stamp duties, Registration fees, Value added tax, documentation charges& other miscellaneous charges, taxes & expenses to be incurred in connection with the deed of conveyance[sale deed] only the actual sums shall be charged.
Upon registration, the flat owner, irrespective of the floor becomes the proportioned owner of the land on which the building is to be constructed.
Should the purchaser be wanting to avoid loan from any financials institute the Company will do all that is possible to help secure the loan. However the final decision regarding the sanction of loan rests with the financial institution & with the Compliance of their requirements. All the necessary paper for sanctioning the loan must be signed by the purchaser & he/she must attend the Registration office for the registration the mortgage deed. Irrespective of the loan being sanctioned or not, the client will be liable to pay as per schedule installments.
After taking over of apartment of project, the allottee [s] must consult the company prior to undertaking any structural or layout charges within the apartment complex. Failure to do so will be the sole risk o the allottee.
The completion period of the construction of the project can be effected by unavoidable circumstances beyond the control of the Company, like force majeure, natural calamities, political disturbance, strikes & changes in the fiscal policy of the country etc.
For the management of common facilities like the supply of electricity, water & sewage & other maintenance of the building etc. owner's association will be formed. All allottes, after full payment of installments & dues must become members of the Association for the common interest. East allottee [for each allotment of the project/apartment] must initially deposit tk.25,000/- only in the resource fund for the management of the complex.
All kind of payment must be made either by Bank Drafts Or Pay order in favor of TRINITY DEVELOPMENTS LIMITED.
Why should you Choose us:
 Unique design
 Rooftop garden
 Rooftop party gazebo
 Landscaped surrounding
 Starter discount-never to repeat
 High appreciation value