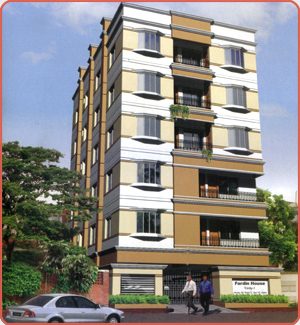 It is great pleasure to announce the commencement of our latest six Storied residensital Apartment projects "Trinity Fardin House" at Uttara, Dhaka, Bangladesh.
Construction of the apartment already completed.
The site situated in prime location of near Kallanpur, Dhaka.
The residential apartment is proposed is 1 and 2 flats in each floor. Ground floor will only for car parking.
Design of the building is fascinating one in respect of compatness, proposed area at single unit is around 1900 sft. and double unit is around 950sft.(each). Although the flat size is around Type A: 1900 sft. and Type B: 950sft. There are 4 Beds, 3 Toilets, 2 Verandah, Drawing & Dining area in Type A and There are 3 Beds, 2 Toilets, 1 Verandah, Drawing & Dining area in Type B which we think are minimum requirement of the modest income group of people.
There is provision of stand by Generator to create emergency two lighting & one fan of each flat.
Any interested person is requested to visit the site to understand the neighborhood, quality & speed of construction.
We believe that the location will be attractive every body and with the co-operation of the valued.
Clients, we will be able to make the project successfully in respect of time & quality of construction.
Project Name
Trinity Fardin House
Projects Address:
House-20, Road-17, Sector-14, Uttara, Dhaka.
Apartment Size
Type-A: 1900sft.
Type-A
4 Beds, 3 Toilets, 1 Living Area
Dining Area, 2 Verandas
Type-B: 950sft.
Type- B
3 Beds, 2 Toilets, Kitchen
1Living Area & Dinning Area
1 Verandah
Car Parking Space :
7 Cars

Features & Amenities
Floor Plan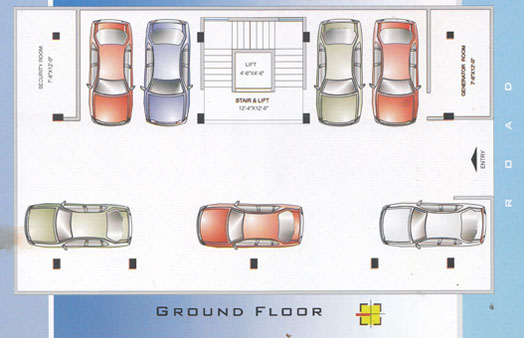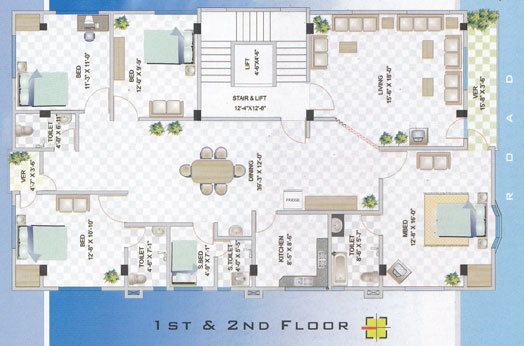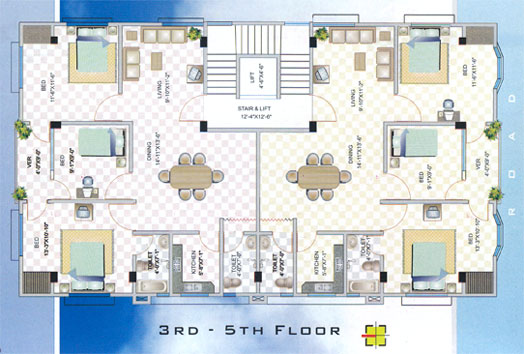 General amenities
 Heavy secured gate lamps & security room with intercom connection with all flats. Spacious entrance and driveway with security arrangement for control over incoming and outgoing persons vehicles, goods etc.
 Underground water reservoir with one main lifting pump and standby pump with 3 days water reserve.
 Standby generator for water pump, staircase lighting & illumination of two lights & one fan on each flat.
 Separate electric, gas, telephone & dish connection for each flat from single.

Bathroom
 Best quality sanitary wares from BISF/RAK. Curler brand.
 Full height glazed ceramic tiling on wall with RAK/Fu-Wang or equivalent brand.
 Glazed ceramic tiling floor with RAK/Fu-Wang or equivalent brand.
 Concealed hot and cold water line provition on bathrooms.
 Best quality local made fitting i.e towel rail, toilet paper holder, soap case etc.
 Best quality water tap from SHARIF/SUN BIRD or equivalent brand.
 Cabinet Basin Master Bath.
 Hot & Cold Water Line In Master Bath.

Door & Window
 Main door with solid teak wood, others are Gamani/Partex flush door paited/polished.
 All window are 4" Bronze Aluminum sliding with 5mm tinted glass & secured M.S Grill with Square bar.
 Door frames are with Mehegony Or equivalent wood.
 Bathroom doors shell be local made plastic door.

Wall/wall finishing & polishing
 All exterior & interior walls with 5" brick[1st class] with ½"plastering.
 Plastic paint Burger or equivalent in inside walls & snowcem in outside of the building.
 French polished will doorframes.

Flooring
 All rooms will be best quality local made matching Non-slips 16"×16" size floor tiles.
 All corridor, lobby, staircase will be Non-slips tiles.

Kitchen
 R.C.C platform with double burner gas outlet & one stainless steel sink.
 Best quality local made matching Ceramic tiling on floor & walls up to 7ft height & burner area.
 Exhaust fan will be provided in suitable location.
 Well Decorated kitchen cabinet & cabinet basin.

Lift
 One super quality lift from reputed manufactures of foreign to serve every floor. Lift have adequate lighting well finished door & cabin, emergency alarm & intercom line.

Optional amenities (on additional payment)
 Built in wardroom & dining area at flat owners choice & design.
 Kitchen cabinets & cabinet basin in all bathrooms including change of standard fixture & fitting.
 All floor can be Foreign tiles with extra cost.

Electrical
 Concealed electrical wiring with branded wires [BRB/Sunshine or equivalent quality] & PVC pipes with earthling connection & provision of A/C connection master bad room & Drawing room.
 Provision of Geyser connection in one toilet & kitchen.
 Provision for exhaust fan in kitchen
 M.K/M.E.M or any best quality electrical switches, sockets & distribution boards with circuit breakers.
 Provision for Concealed intercom, telephone, TV & dish connection in master bad & living room.
 Lighting shades to be provided by owner's at their own cost.
 Separate electric meter in the ground floor of the building.

Special amenities
 Front side window will 5mm colored glass.
 Top of the roof will be decorated by a garden.

Structural Features
 40 grade will be used Diamond steel or equivalent.
 Holcim/Scan Cement or equivalent Brand will be used in all structural work.
 Total foundation and superstructure is designed by a team of reputed and professional structural engineers.
 Structural design parameters are based on American Concrete Institute [ACI] & American Society of Testing & materials[ASTM] code.
 Structural analysis for design carried out by "EXACT" method that utilizes the latest computer software.
 Sub soil investigation & soil compositions are comprehensively analyzed by latest testing equipment and laboratory techniques.
 Comprehensive section by section checking and testing of all steel reinforcement by professional design andsupervision engineers.
 Direct supervision at every stage of construction by a team of experienced and qualified civil engineers to ensure highest quality of workmanship.
 Protection of Cyclone/winds up to 200 kmph. Including earthquake factors [Richter scale 7.0] are incorporated in the structure.

Terms & condition
Application for allotment of apartment should be made on the prescribed application form duly signed by the applicant along with the Earnest money.
On acceptance of an application, the Company will issue allotment letter to the applicant on which the applicant/allotee shell start making payment as per schedule of agreement.
Payment of installment and all other chares are to be made on due dates according to the schedule.
The Company may issue reminders to the allottee but not withstanding the issue of reminders, the allottee must ad there to the schedule to issuer timely completion of construction.
Connection fees/charges, security deposits & other incidental expenses relating to GAS, Water sewerage & electricity connections are not included in the price of flats. The Company will make those payment directly to the authorities concerned on the allottee's account. The allottee shall be require to bear those changes proportionally on actual cost basis.
Some changes in the specifications design, layout of the apartments and other facilities may be made by the company in overall interest or due unavoidable reasons.
The allottee will become proportionate shareholder of total area of the scheduled land of the project in respective apartment. After all the dues and installment are paid by the purchaser according to the requirement and schedule of payment and after the completion of the construction, the vendors shall either execute a registered sale deed in favor of the purchaser transferring proportionate share of land of the project and the demised flats.
Stamps & duties of registration cost. VAT, and other registration and documentation charges for Govt. Or agency shall be in the purchasers account and not included in the cost of the flat.
For the purpose of the effective management and maintenance of the building the purchaser(s) of the apartment shall from and constitute mutual benefit Co-operative Society under the co-operative Society's Act 1940the society so far made shall be entrusted with the management and maintenance of the building. The rules, regulations and by-laws of the co-operative society relation to management and maintenance of the building shall be binding upon all the Purchasers/Owners of the apartments. Each purchasers/allotted shall pay initially tk. 20,000/=(Taka Twenty thousand only) as contribution to the reserve found of the society and pay monthly such amount as agreed for effective management and maintenance of the building.
Mode of payments are negotiable and accommodative from client to the their own choice.
Te allotted shall be required to execute and agreement with TRINITY DEVELOPMENTS LIMITED. For safe
Guarding respective interest.
All payments should be made by Bank draft or Pay-order in favor of TRINITY DEVELOPMENTS LIMITED.

Why should you Choose us:
 Malaysian developer
 Unique design
 Rooftop garden
 Rooftop party gazebo
 Landscaped surrounding
 Starter discount-never to repeat
 High appreciation value
 Easy access
 Individual car park bays.